Get my FREE LightRoom presets
Edit your photos with 1 click. Get 6 brand new presets with a range of color, mood and style.
Easy to install, easy to use and easy to tweak for further customization. These are the presets I use when I edit my photos.

The FREE bundle includes: A6Worship, Bright Worship, Contrast B+W, Crushed Worship, Grey or Gray, and Hip Desaturated.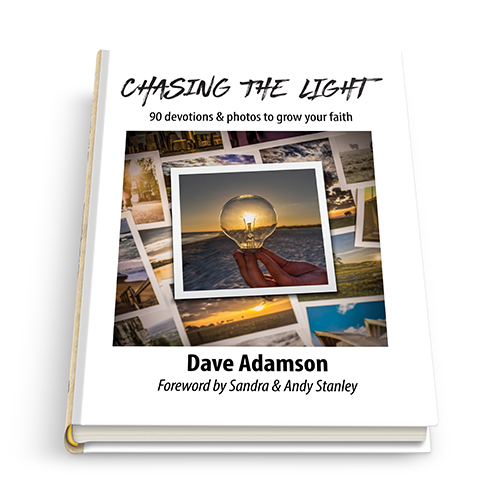 Chasing the Light
90 Devotions & Photos to Grow Your Faith
Photographers often describe what they do as chasing the light, since light is what makes photography possible. As followers of Jesus, we are chasing the Light of the World in an effort to become more like him as we take the next steps in our spiritual journey.
In Chasing the Light, Dave uses photos taken around the world to provide daily insights into the Bible.
FREE

SCRIPTURE PRINTS!
Want FREE resources such as regular devotionals, hi-resolution prints you can download, as well as deeper insights and stories about the cultural context of the Bible?
All you need to do is sign up for my mailing list and you'll get all this and more directly to your inbox!
Open In Case Of Emergency
14 days of hope-filled Bible devotions for when the storms of life are out of control.
90 Days of Social Media
Engage your church and community with 90 Days of Social Media Images and Captions
Are you ever stressed or stumped about what to post on your church social media channels? There's never been a more important time for churches to have a strong social media presence, but most often don't have the time or resources to do the job well. This resource is like hiring a social media team member for the next 90 Days without the salary price tag.