The Bible is complicated. You want to get more from it. I can help.
If life has worn you down, this post is for you. In the harshest and hottest desert in the Holy Land—the Judean wilderness—is an oasis called Ein Gedi, which is the natural spring that King David of the Bible fled to when he was running for his life. Ein-Gedi, the...
read more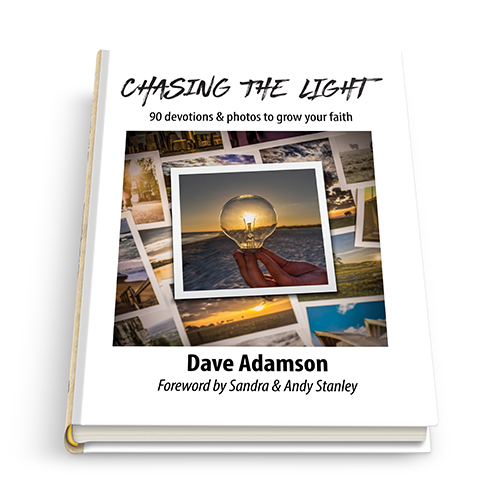 Get daily Bible insights to grow your faith with the latest devotions from my Instagram feed
Something is wrong.

Instagram token error.
Get my book Chasing the Light
Here's what some smart people said about how my book can help you get more out of your faith … 
"Dave began using his photographs to teach his daughters Biblical truths in a way that was creative and memorable. He started sharing them via Instagram and his following exploded. We are thrilled that he is now taking those very same devotionals and photographs and making them available in this beautiful book."
Sandra and Andy Stanley, Authors and founders of North Point Ministries
"As an artist and photographer I am keenly aware of how creativity can bring new insight and understanding, which is exactly what Dave Adamson does with this book. He connects beautiful, modern photography with the rich, ancient story of the Bible to bring fresh, deeper understanding. It's more than a devotional and more than a photography book – it's a creative insight into faith."
Jeremy Cowart, Photographer and Founder of The Purpose Hotel.
I used to be a TV reporter in Australia, but I'm now the
Social Media and Online Pastor at North Point Ministries
in Atlanta
. 
I'm also a photographer, musician and an author at
YouVersion
. I post daily devotions on my 
BibleInPhotos Instagram
 account … oh, and I have a book,
Chasing The Light
.